*** Searching for - MUSIC DIRECTOR - Click to see Job Posting ***
Welcome to First Baptist Church North Bay
I am greatly honoured to pastor this wonderful congregation that Worships God, Loves each other and Reaches out to the world with the love of Jesus. This is a Bible based church with Jesus Christ as the Head.

We are known affectionately as the "Church on the Rock" because of our elevated location on the Cambrian Shield on Cassells Street. It is an appropriate name because our foundation is on Jesus Christ the Rock.

Isaiah 26:4 Trust in the LORD forever, For in GOD the LORD, we have an everlasting Rock.

I preach the bible verse by verse so that we can discover together the whole counsel of God and become stronger followers of Jesus Christ.

I encourage you to read our Church Covenant.

It is a beautiful promise we have given to God and to each other. You are always welcome to come and worship with us!

Pastor Wilbert Zavitz
Sunday Service
Service is every Sunday at 11:00 a.m.
Nursery provided for children under age 4. Children ages 4 and up can join our Sunday School called "Rock Solid" after the Children's Story time with the Pastor.
French translation is available at our service.
If you are unable to attend,
Sunday Service is broadcasted live on KFM 103.5 FM radio.
Click this link

"Building Futures on Jesus"
SUMMER GREETING!
It was an amazing escape. Over a million people walked out on their captors with gold, silver and clothing stuffed in their bags. Never in history has such a large group of slaves been promised a land of their own. In a cloud of protection and a pillar of light the children of Israel experienced God's power as they miraculously passed over the Red sea, ate food they didn't grow and drank from a rock. Such an amazing escape that here we are thousands of years later still talking about it.
It is a story of hope that stirs us all. Shackled by sin, hurts, habits and hang-ups we long for the Promised land. We have a promised land and Jesus Christ promises us to take us there. With His blood he bought our ticket and led us by His light and protected us by His Spirit.
When the Children of Israel arrived on the borders of Paradise on earth they were met by the giants in the land. They turned around in fear of them and wandered the desert for another 40 years. They wanted to run back to the safety of slavery in Egypt. Safety of slavery? It was familiar; they knew what to expect. Oppression, hunger, pain, and old foes were easier to confront than the new ones waiting before them in Paradise. The new enemies before them were fear and doubt.
Jesus wants you to enter His paradise. It is a place of security, forgiveness and acceptance. At Celebrate Recovery we will travel with you to help you push away the giants of doubt and despair and give you binoculars to look past them where the Promised land waits for you. Do you have habits, hurts and hang-ups that enslaved you? Have you heard of the Promised land full of forgiveness and life. Do you want to go? With Jesus as your Higher Power, and the support of your fellow travellers Let's Go!
Blessing, Pastor Wilbert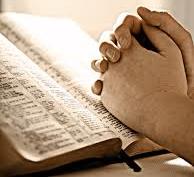 When we pray,
GOD hears more than we say, anwsers more than we ask,
gives more than we imagine...
in HIS own time and in HIS own way